IMS Industrial Mechatronics System – the New Generation
IMS Industrial Mechatronics System – the New Generation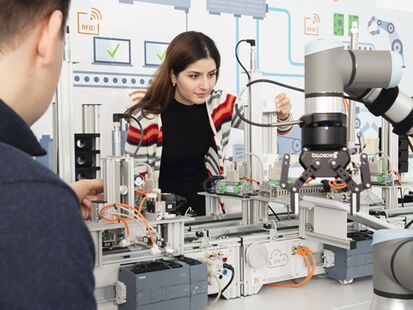 IMS Industrial Mechatronics System – the New Generation
With the "Industrial Mechatronics System" (IMS®) industrial automated production lines can be simulated in all their varying complexity. Thanks to its modular design IMS is a system which is perfectly suited for expansion. Consequently the system can be adapted to fit the needs of the students and can evolve to mirror their progress.
The new IMS generation excels due to the fact that the transport system features intelligent connection with a control system. The direct connection between the control system and the conveyor belt permits the system to go into operation quickly and easily.
Having been exposed to industrial components used in the system trainees quickly adapt to real-life work after completing their training

Realizing multi-phased training on only one system is also possible.

Gaining basic understanding thanks to operations with a microcontroller or LOGO!

Advanced training directly on the PLC of the transport system

In more advanced training it is possible to implement the networking of several transport systems with processing stations
Small projects are carried out with single IMS components, especially when using the transport system or single stations

Trainees are able to comprehend operating processes and signal state dependencies faster since they can read the I/O signal states directly on the system

More complex exercises can be explored working with the IMS stations. Here additional functional interrelationships result from single IMS components interacting

Since the systems are easily separated, there is a lot of room for creativity in customising lessons

Complete and flexible production lines with a carousel system are set up by connecting the individual IMS stations. The multi-facetted projects are designed to develop solid know-how of the IMS stations.