EGT 2 Wiring installation for lighting and appliance circuits
EGT 2 Wiring installation for lighting and appliance circuits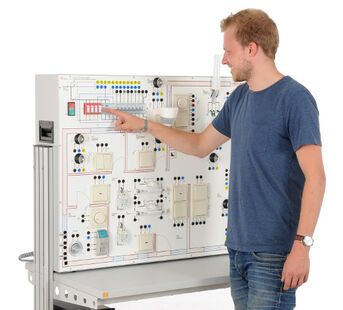 EGT 2 Wiring installation for lighting and appliance circuits
The wiring installation training module "Lighting and appliance circuits" is a project-based multimedia training system covering the following topics:
Wiring circuits, planning, calculations

Cables, calculation, wiring

Sub-distribution, planning,

VDE conformant safety measures
Different software packages are used to work through the various training stages in a training system that very closely follows actual practice. The training software is specially designed for educational use and provides hierarchical, structured guidance to the student. This provides a considerable boost to the self-learning aspect of the system.
The training objectives are structured as follows:
Installation of on-off and intermediate circuits

Installation of multi-switch circuits

Installation multi-circuit switches

Installation of circuits with current pulse relays

Dimming fluorescent lamps

Dimming halogen lamps

Installation of a motion sensor for external lighting

Installation of multi-functional comfort switches

Protective measures to prevent electric shocks

Testing RCDs

Insulation measurements, earth measurements, loop resistance

Testing rotating fields, protective earth measurements, equipotential bonding measurements

Lightning and excess voltage protection

Documentation, handover and test report