Automation Studio™ Educational Edition
Automation Studio™ Educational Edition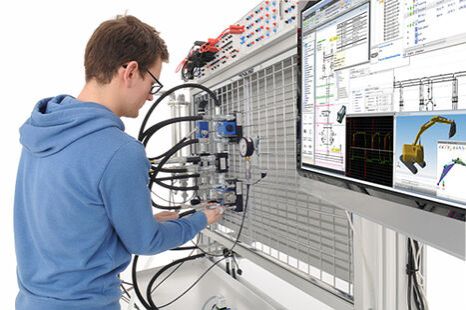 Automation Studio™ Educational Edition
The Tool of Choice for Teaching, Training and Learning Mechatronics, Automation, Electrical and Fluid Power Engineering Technologies.
If you teach subjects related to hydraulic, pneumatic, electrical and control technologies, the illustration of concepts and the behaviour of systems are no doubt at the heart of your requirements.
Created in 1986 by Famic Technologies Inc. to meet the needs of technical teaching and training and used in thousands of schools worldwide, Automation Studio™ is a unique software solution, which offers intuitive design, animation, simulation and system analysis functionalities in a versatile and user-friendly environment. It allows teachers to present more content in less time, improves students' understanding of concepts and diagnosis capabilities and brings to schools, colleges and universities an optimal return on investment.
Libraries and Modules • Electrotechnical (AC/DC) • Hydraulics/Proportional Hydraulics • Pneumatics/Proportional Pneumatics • Electrical Controls • PLC Ladder Logic, Allen Bradley™ Siemens™ and IEC 61131 • Sequential Function Chart (SFC/GRAFCET) • Digital Electronics • Electrotechnical One-line • 2D-3D HMI and Control Panels • Block Diagram-Math • Fluid Power Component Sizing • Electrical Component Sizing • Troubleshooting and Diagnostics • Mechanical Links • Catalogue Manager • Bill of Material and Report • OPC Client, OPC Server (CAN Bus) • SFC Compilers, Export to Siemens™ and XML format (Automation Studio™ PLC) • APIs/Script Language
Automation Studio™ Educational:
Operating System Professional Edition (32-bit or 64-bit): Windows 7 SP1, 8, 8.1, 10 or Windows Server 2008R2 SP1, 2012, 2012R2 and Server 2016 - It is not recommended to install Automation Studio™ on a server machine

Microsoft Office is not required, but if present, must be 32 bit for 32-bit installation of Automation Studio™ or 64 bit for 64-bit installation of Automation Studio™

CPU: Intel® Core™ or equivalent. Automation Studio™ takes advantage of multi-core processors.

Memory: 4 GB

Graphic Card: Video memory 512 MB and up. Support for OpenGL 2.0 or Direct3D 11 is required for the 3D module

Disk space: 5 GB of free space is recommended. Additional space might be required for the catalogues.