Home lab may continue at Bosch
Learning from home while still covering the practical element: the trainers at Robert Bosch GmbH in Schwieberdingen achieved this balancing act in spring.
When the measures to contain the Covid19 pandemic were at their strictest, they let their mechatronics trainees take the training systems home with them. We spoke to trainer Andreas Geiger, deputy training manager Robert Köhler and students Rieke Miesterfeldt, Emil Schäuffele and Tobias Wölfler about their "home lab" experience.
Lucas-Nülle: In the past, we have occasionally emphasized the fact that our UniTrain systems can be easily stored and transported thanks to the convenient cases they come with. Admittedly, however, we never seriously followed up the idea of using our systems 'in living rooms'. Coronavirus has reshuffled the pack in this respect too. It was in April that we first heard about your plans to let Bosch trainees in Schwieberdingen take the systems home with them. That made us prick up our ears. How did this decision work out back then?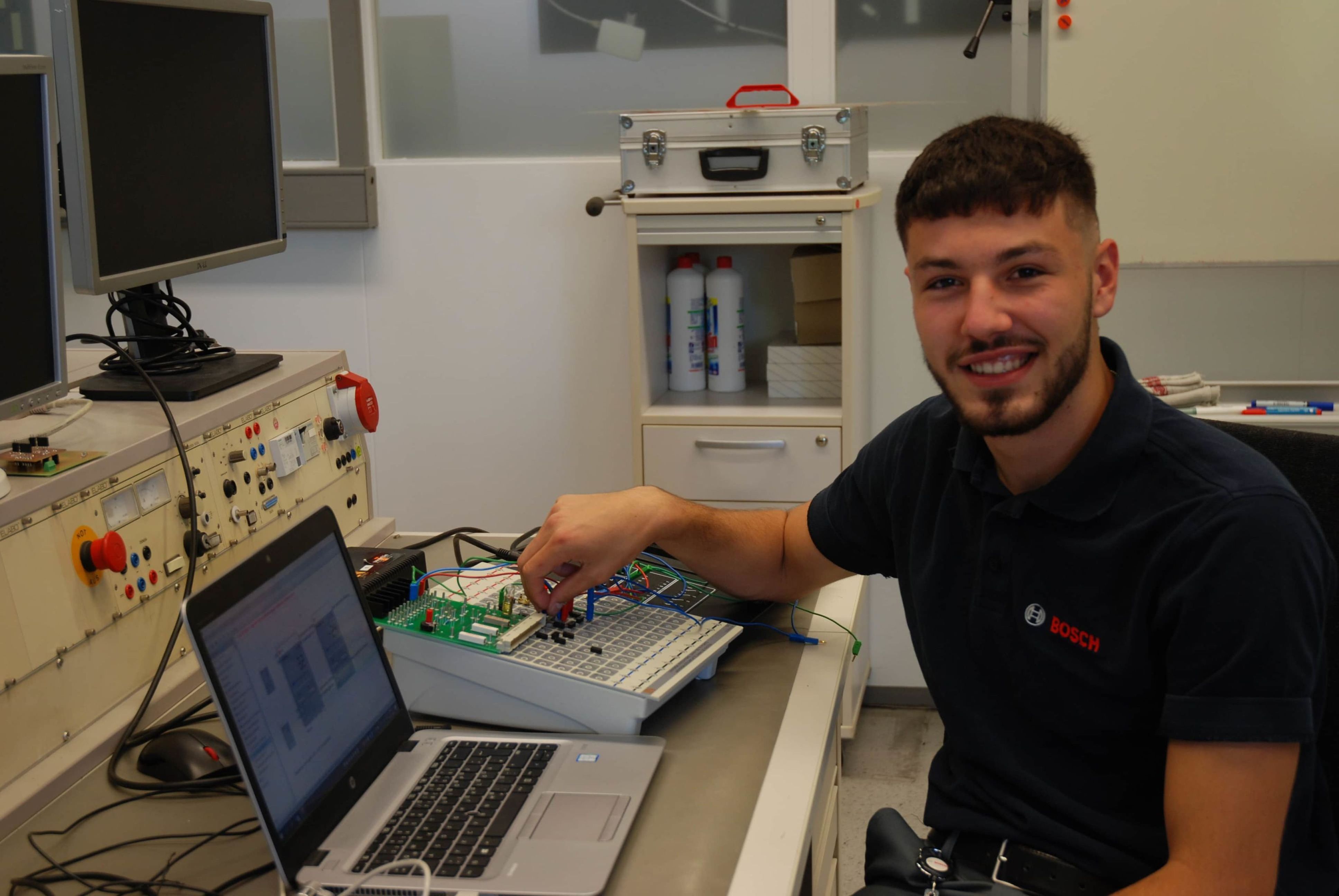 Robert Köhler: "As everyone will recall, events came thick and fast in those weeks. When it became clear that we would have to send the trainees home for an indeterminate period of time, we didn't want to be frozen into inaction. So we decided to venture into new territory by letting the trainees take the Lucas-Nülle training systems home with them. However, for the first time, this required our trainees to have VPN access. But our efforts were supported by both the works council and the youth representatives, so internal implementation was a straightforward matter. All the trainees needed was a stable internet connection at home. All in all, that wasn't a major problem either."
Lucas-Nülle: It sounds like implementation went well?
Andreas Geiger: "Absolutely. The trainees had already become acquainted with the training systems at the factory and knew how to connect them up and use them. Of course, we only have a limited number of systems available, so organizing their distribution among the individual learning groups was a slight challenge in logistical terms. But we managed to deal with that as well."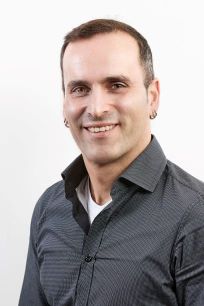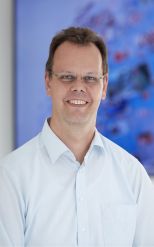 Lucas-Nülle: Aside from the technical aspects of implementation, how were the lessons structured from a methodological point of view?
Andreas Geiger: "Of course, even with the training systems, a purely distance-learning format entails a loss of possibilities. Normally, our teaching is based on a mix of theory modules, self-learning phases and project units, some of which are long-term in nature. These projects allow the trainees to apply their newly acquired skills. Unfortunately, we had to dispense with this part altogether – or rather, we had to make it up later. But the systems did provide an effective learning platform for carrying out the different measurement exercises. That part went smoothly, which was very satisfying. Communication took place via Skype. That also worked fine, but of course there's no comparison with the 'real thing' in person. It was harder to answer questions."
Lucas-Nülle: What do the trainees think about it? Do you agree with Mr Geiger?
Tobias Wölfler: "Yeah, it worked well. In the end, we managed to locate all the faults and resolve any technical problems with the hardware. But communication is more laborious and it takes longer than when you have the trainer next to you."
Emil Schäuffele: "But I also found there was a positive aspect to it. For my part, I noticed that, more often than usual, it made me think twice before asking a question. To some extent, this even allowed me to remember things better. All in all, though, the concept was very easy to implement at home. The fact that there was practical content as well made learning at home more interesting and varied. I found it a positive experience."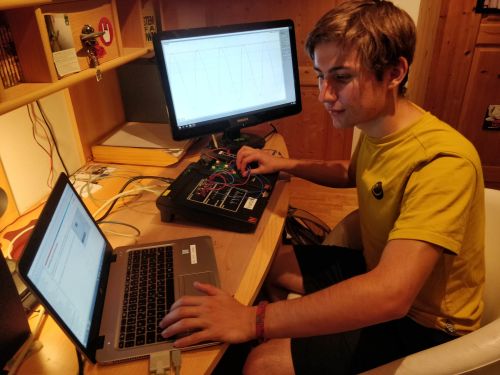 Lucas-Nülle: Would you repeat the home lab experience?
Rieke Miesterfeldt: "Under these circumstances, it was a very good solution. But I do think the real lab has a lot of important advantages. Direct face-to-face communication is irreplaceable. So the answer is yes, but only if the circumstances demand it."
Lucas-Nülle: And what do the trainers say?
Andreas Geiger: "I would even go a step further. I can imagine making such phases an integral part of the training plan. Like Emil just said, we noticed that it fosters independence and strengthens other facets compared with face-to-face teaching. Another important aspect is that it requires us, as trainers, to be prepared to explore new avenues. But it is also clear that it can only be a supplement to the existing methods."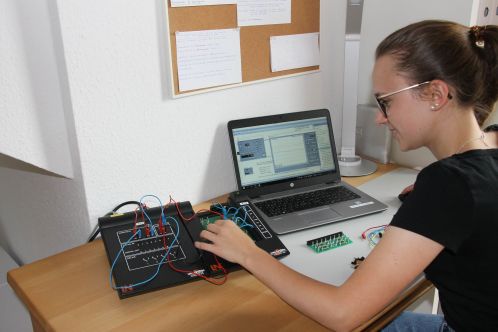 Lucas-Nülle: It sounds like this period of distance learning certainly made a lasting impression?
Andreas Geiger: "It certainly did on me. We have been used to classic face-to-face training for many years. Not being able to see things changes the situation completely. Like I said, the trainees are required to be more proactive, plus you make much greater use of the possibilities offered by technology, which we talk about so often. Looking back, I view it as an enrichment and definitely not as a necessary evil."
Lucas-Nülle: One of the reasons why use of the systems in the home lab worked so well is that your lessons rely substantially on Lucas-Nülle's training software. What does this involve exactly?
Andreas Geiger: "LabSoft is a core component of our lessons. Let's take the semiconductor course as an example. We have adapted the existing content to ensure that the trainees first see the schedule for the whole week in which they are working on this topic. If they have to work with content or software outside the program, the LabSoft course also provides them with the necessary links and references.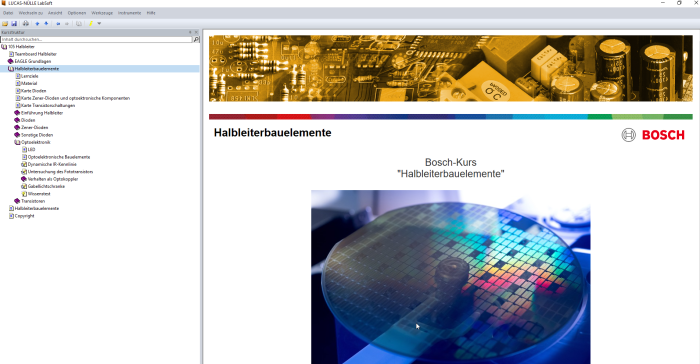 We have also added our own circuit diagrams and adapted the design for Bosch. Another important detail is that we write a short unit for each course, placing the topic in the overall context of training in the automotive industry. At the moment, we are supplementing our own knowledge tests for exams, which we also use for grading. The program offers us many possibilities, and we like to make use of them."
Lucas-Nülle: Finally, a quick glance into the future: the proportion of electrical and electronic components in motor vehicles is currently increasing at a faster rate than ever. How are you responding to this development?
Andreas Geiger: "We decided early on to use training systems that allow these components to be experienced outside the vehicles. We have a wealth of experience in this area which will stand us in good stead. Our approach to future developments will be the same. At the same time, we will remain open and flexible when it comes to new methods."