EGT 8 E-mobility: Set-up and testing of a charging station
EGT 8 E-mobility: Set-up and testing of a charging station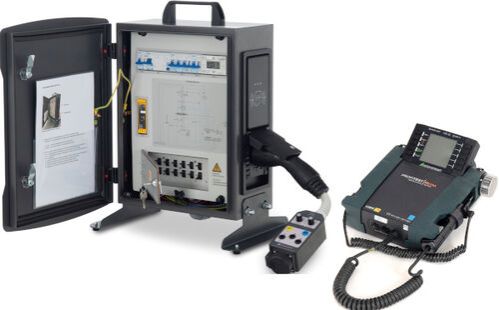 EGT 8 E-mobility: Set-up and testing of a charging station
This set can be used separately as a training project on the subject of protective systems conforming to either VDE 0105 or VDE 0100/T.600. The same measuring instruments are used for testing as for a comparable built-in electrical system operating at up to 1000 V. It should be noted in this regard that the measuring equipment is able to check the RCDs specific to charging of vehicles.
For some measurements and for function testing, the charging station needs to be fully commissioned. This requires either a vehicle or a test adapter, since otherwise no communication can be established between the vehicle or test adapter.
Readings on the current status of the charging station can also be obtained from the built-in web server for the charging controller. This also allows for the charging controller to be configured.
The training objectives are structured in the following way:
Training project, overview
Adjustment of charging infrastructure to match the electrical installation to which it is connected
Hazards due to electric current
Measures to protect against electric shock
Selection of components for charging infrastructure systems
Charging modes for electric vehicles
Testing of an electrical charging station in conformance with currently applicable standards
Testing of RCDs specific to charging infrastructure systems
Insulation measurement, measurement of loop impedance
Testing of three-phase field, measurements on protective earth
Documentation, hand-over and test report