IPT 11 Rectification (Continuous Distillation)
IPT 11 Rectification (Continuous Distillation)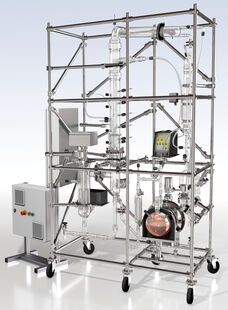 IPT 11 Rectification (Continuous Distillation)
Multi-stage distillation by means of rectification is at the heart of many overall processes used in chemical and petrochemical facilities. Comprehensive understanding of such rectification is fundamental to optimize the operation of such a process unit.
Whether for plant operators, chemical technician, chemical engineers or process engineers, the process trainer IPT 11 Rectification provides the ideal prerequisites for learning the rectification process from its foundations.
The intelligent system design allows it to be constructed in a compact form. This benefits the teaching process since startup, practice and shutdown of the system is possible in the space of a day, thus enabling one-day practical sessions.
The use of high-quality, industrial borosilicate glass 3.3 makes it possible to see and follow the entire process. The interactive e-learning course also helps trainees gain a deeper understanding of what they have learned.
The process trainer IPT 11 Rectification is supplied with a complete, fully programmed industrial process control system. It is possible to connect multiple training systems with a single process control system. Lucas-Nülle will find a custom solution to your process engineering laboratory needs. Simply make contact with us about it.
Education objectives:
First principles of continuous rectification
Application McCabe-Thiele diagram
Comparison practical to theoretical separation stage
Mass and energy balance
Alarm management
Operation of a distillation column

starting up a unit
shutting down a unit
set control parameters
set alarm ranges

Influence of efficiency of:

throughput
reflux ratio
preheating rate