High-Speed Glow System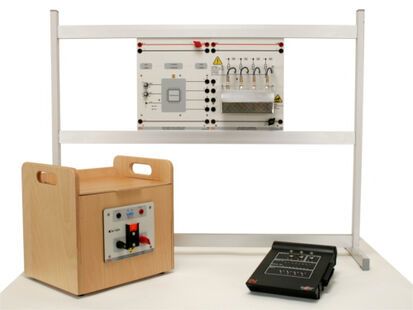 High-Speed Glow System
(Equipment set: ATS1)
This training environment comprising a high-speed glow system is ideal for practical and in-depth education on modern glow systems in passenger cars and commercial vehicles. A use of the latest educational concepts and numerous interactive animations for graphic representation of complex arrangements in automotive technology guarantees trainees a special learning experience.
In addition, didactically designed experiment hardware allows a mediation of diagnostic skills which trainees can directly apply in daily workshop activities.
The experiment hardware consists of real automotive components. Each component is treated realistically as an individual entity, and as part of an entire assortment comprising the high-speed glow system. This makes it possible to practically demonstrate the relationships arising from the principle of input, processing and output.
The associated software incorporates the full course and provides multimedia representations of the provided hardware components. Students are thereby encouraged to operate interactively on a regular basis. Also described are numerous procedures for experiments and measurements involving the components.
Simple wiring ensures fast and immediate start-up of the training system.
Training content
Fundamentals of auxiliary start equipment

Special aspects of a diesel engine
Purposes of auxiliary start equipment
Glow system's components

Learning about a glow system's components

Voltage supply and cabling
Control lamps
Glow plugs
Glow plug controller

Understanding the function of various glow phases

Pre-glow
Standby glow
Start glow
Afterglow
Intermediate glow

Studying a glow system's diagnostic functions

Understanding examples
Testing a glow system
Skills
This course is meant to impart the following skills and competencies to students:
Analyzing customers' complaints
Developing test routines
Diagnosing malfunctions in start systems with the aid of manufacturers' documentation and diagnostic equipment
Reading and evaluating approval certificates
Using circuit diagrams
Ascertaining system-specific relationships from circuit diagrams and function plans
Recognizing the impact of a failure on the general system and determining diagnostic strategy
Evaluating readings
The training system comprises:
Hardware components from a variety of automotive manufacturers
Hardware and software for theoretical and practical instruction
Software for independent studies
Electrical connections are established via 4mm safety jacks. Employed here are coloured 4mm safety measurement jacks which facilitate learning. The sensor signals, actuator controls and power supply sockets are colour-coded.
Dimensions and weight:
Approximately 297 x 570 x 100 mm (HxWxD)
Approximately 3.8 kg
Scope of delivery:
Training system with 230V/50 Hz mains connection
USB cable
CD with basic software
Operating instructions
System requirements:
Personal computer with Windows 7 (32 or 64 bit version) or Windows 8
CD-ROM drive for software installation
USB interface for connecting measurement hardware